19-05-2023
7:30 pm
-
10:00 pm
Web Talk
Lost Cousins by Peter Calver. An aid to help us trace long lost cousins from the past to the present
16-06-2023
7:30 pm
-
10:00 pm
Laurie Page takes us through the process of looking at migration patterns and how it affected families. Clues and where to look when you reach a dead end.
21-07-2023
7:30 pm
-
10:00 pm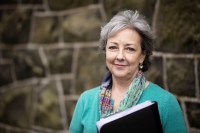 Natalie Bodle is a professionally qualified genealogist and tour guide as well as a speaker on the international circuit.
I completed Post Graduate Certificate in Genealogical, Palaeographic and Heraldic Studies with the University of Strathclyde, Glasgow, with the aim of setting up my own business as a genealogist and family historian. 
I deliver regular genealogy courses and also provide talks and workshops locally, nationally and internationally.